I'm sewing the border on my quilt hopefully tonight so the actual quilting process should begin. I need some input on it....

This was how the original design was. With embroideried (or fabric pen) faces
and tails.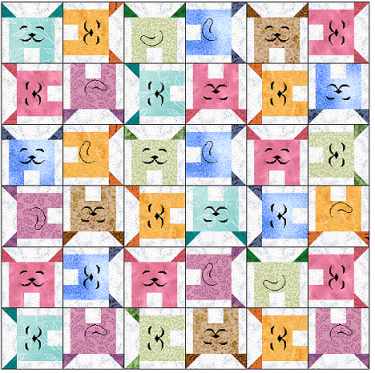 Here is mine so far. My obsessiveness forced me to face all the dogs the same direction. I am torn. I really dont want to embroidery faces and tails on them. I could paint pen them. But do you think its REALLY neccessary? Am I going to be totally taking away from the "cutness" by leaving the details off? I've been told they really dont looks like dogs, but cant it be abstract? I mean its just a quilt for pallets, cuddling, etc.



Here is another quandry... I want to quilt dog bones in the border (which is not on there in the above pic) and then quilt "paw prints" all over. However, mother says that will look dumb and that I should be boring and quilt around each indiviual piece. What the consensus of my faithful blog readers?